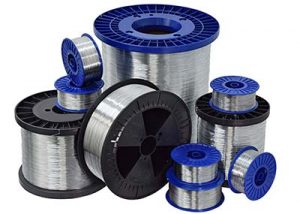 Stitching Wires
Description
Galvanized Wire
Coppered Wire
Polished Wire
Stainless Steel Wire
Coated Wire
Miruna produces wires made of low carbon steel, preparing them according to their various destinations in the industry.
Miruna is specialized in the manufacture of stitching wires, which requires perfect conformation (formation and bending of the clamp) and uniformity in its hardness along the wire, in order to promote continuous work on our customers' lines.
The application of wires is very wide, being present in several products in different industries. Miruna indicates the ideal wire for each stitching application and proposes solutions for the specific needs of each customer. Please contact us.
To increase service life, keep the wire spools inside the original corrugated box, safe from moisture, until they are used.
Elektrolytically galvanised steel wire for stitching applications in the printing industry
Galvanized stitching wire is a key product for the quality binding of magazines and exercise books. Our stitching wire is available in all standard dimensions. We have the suitable spools and the optimized unwinding system for your machines, whereby you increase the efficiency in your processing and reduce downtimes and downtimes. In this way, we ensure full flexibility in your production and enable you to design your products individually.
Product properties
High stitching speed on all machine types and stitching heads (web printing, saddle stitchers, inline stitching, cross-stitching.....).
Protection of the stitching head by a strongly adhering zinc coating without a layer of dirt.
Low frictional resistance due to optimized surface structure and technical lubrication.
Trouble-free processing due to constant mechanical properties.
Good corrosion resistance due to environmentally friendly coating.
Perfect penetrating power due to limited manufacturing tolerances.

Coppered wire has a copper coating, which gives a similar color to cardboard boxes, where it is most commonly used. This type of coating doesn´t have the same efficiency against oxidation as zinc coating but still offers protection.
Miruna offers different gauges of wires and spools. Please, contact us for more details.

For applications where no coating is required, Miruna offers uncoated wire in different gauges. The most common applications are polishing and cleaning brushes as well as cardboard drums.

Miruna recommends and offers stainless steel wire in different gauges for stitching purposes where oxidation resistance is a sensitive matter, such as in places with high humidity and at the seashore. Miruna offers stainless steel wire in different alloys, gauges and spool sizes. For more information, please contact our sales team.

Lötters & Miruna, a joint-venture between Lötters in Germany and Miruna in Brazil, manufactures nylon coated wire in different colors, gauges and spool sizes. This type of wire is commonly used on calendars, spiral books and agendas. For more details, please contact us.